Buses in Istanbul have routes to all over the city and they give you an inexpensive opportunity to travel around. Bus stops are easily recognizable and are located at frequent intervals.
Each route has a number like "49" and in some routes they also have a letter following this number like "30M". Once you learn your bus number, you can easily spot its number on top of the front window well in advance it reaches the bus stop. Once the bus reaches the bus stop, you can also read its list of visiting districts in order and final destination on the side window. You can learn your bus number from the I.E.T.T's information kiosks. Time tables and other route information can be found at bus stations.

There are three types of buses operating in Istanbul. The first one is public or the municipal buses you may call them, are usually green (see the picture right), or the older ones are red and blue in colour. Some have partial advertisements on them, others might be totally covered with advertisements.

Take notice of the route number on top of the bus
The second type is the privately owned buses which are orange in colour. Both types operate at the same price. The third type is the double-deckers. These operate for relatively on longer distances and are very convenient when crossing the Bosphorus bridges. On the double-deckers you pay more but they are usually not crowded at all and almost always keep the air-condition on. Other than these three types there are also some special buses for physically disabled passengers.
If it is a public bus you have to buy your e-ticket Akbil or your paper ticket from the I.E.T.T kisoks or automatic Akbil refilling machines before you get on the bus. The bus drivers are not selling any.
If it is a privately owned bus, as well as using Akbil (except the monthly type known as Mavi Akbil), and paper tickets, you can choose to pay by cash. If you prefer to pay cash, you never pay it to the driver but in private buses there is a person sitting behind a small desk, just to your left hand side when you enter from the front door. After you pay him, he gives you your ticket. It is always the same amount you would pay in a public bus. Don't forget foreign currency is not accepted and people normally do not know English so learn how to spell your destination in advance.
When crossing the Bosphorus bridges the price of the bus fare is doubled so, if you are going to pay by paper ticket you have to drop two tickets per person to the ticket box. If you are paying your fare by Akbil however, there is no need to touch the yellow box two times, as it will deduct the double price automatically from your Akbil device. The double-decker buses require three tickets, but are not crowded and have air-conditions. You can not use Mavi Akbil on double-deckers.
You can buy tickets in bundles of ten from kiosks at major bus-stops. It's worth carrying a small stock. Otherwise time is wasted queuing for a ticket, or wandering in circles to find where to buy one.
You get on to the bus from the first door but because it is usually crowded, you should always use the middle and the far back doors when getting off the bus. Never use the first door (where people are trying to getting on) to get off the bus. When you want to get off the bus, you should let the driver know your intention well before to the next bus stop by pressing the button which writes "Stop" on it. On some old type of buses and private buses, instead of the buttons that writes "Stop" on them, you find a black button on top of the middle and far end doors that you are going to exit. In either case you should proceed to the doors in advance because the people in Istanbul are always in a hurry and impatient so, are not tolerant towards people who keep the bus waiting long on the bus stops.
Pros:
Buses in Istanbul have routes to all over the city
It is an inexpensive way of travelling around the city
Cons:
Because of the heavy traffic the bus time tables usually never reflect the actual time that the bus arrives.

Usually are very crowded except the double-deckers where you pay almost the double price.

You have to make your moves quickly on the public and private buses, especially when getting off because, people in Istanbul are always in a hurry and impatient. They have no patience to a person who keeps the bus waiting long on the bus stops. So, proceed to the middle and far end doors well in advance before you want to get off and press the "Stop" or black button on top of the doors.
| | |
| --- | --- |
| Taxis are very handy and numerous in number all over Istanbul. They are yellow in colour and have "taxi" signs on top. You can find a taxi from a Taxi stop which is always safer to do so because, the drivers and the taxi plates are registered on that stop and you can always find the same person working there on shifts. Alternatively you can just pick up an empty one on the street. | |
The taxi prices are very reasonable in Turkey. There is a starting fee and the price is metered by two different types of rates there after. After midnight rate are applied starting from 24:00 till morning 06:00 am. This rate will cost 50% more than the daytime rate. Additional expenses like bridge crossing fees are charged extra to the passengers. Taxis are obliged to drive on the meter except in case you want to mutually agree on a fixed price before you depart.
The taxi driver may not understand English so, you'd better write down your destination on a piece of paper or learn how to spell it correctly. Tipping is not necessary, however leaving the change or rounding up the fare is customary.
Lastly, try to make sure that you are standing on the right side of the road that is in accordance with the way you are going to head. Otherwise it may take a some time to turn round because of the huge circular slip roads on many major routes.
Pros:
Very handy and numerous in number all over Istanbul.
Taxi prices are very reasonable in Turkey compared to European countries.
Cons:
It is hard to spot an empty one when the weather is rainy .
Always check if the taxi-meter is turned on as you get on (if not mutually agreed on a fixed price).
Dolmus is a kind of shared taxi that can come in the form of a station wagon, a special small kind of minibus or sometimes a regular taxi. Each of them follows a different specific fixed route and this route is indicated with a destination board on the bottom right corner of the front window. Passengers pay by cash as soon as they get on according to the distance they want to travel.
One can get on and off wherever he/she wants by informing the driver. You need to say "Musait bir yerde lutfen" meaning "at a proper place please", an abbreviation used instead of "could you please drop me off at a proper place".
There are also main dolmus stations, where dolmuses depart from. There are no timetables as you just take a seat and wait until the dolmus is full before it departs.
While being much cheaper than a taxi and providing almost the same comfort, it is a very practical way to travel used by Turks every day. The dolmus fares are determined by municipalities according to distances.
My beloved city Istanbul is so much alive that it doesn't even sleep, so, the best part of dolmuses is that there are also dolmuses that operate all night long, especially on weekends.
Pros:
Very handy and practical numerous in number all over Istanbul.
Cheaper than a taxi and providing almost the same comfort.
There are also dolmuses that operate all night long, especially on weekends.
Cons:
If you are a first time visitor in Istanbul and not familiar with the city, at first it can be hard to spot a dolmus as they come in many forms and can be very confusing for you to understand where to get on other than the main stations, where as this is as clear as black and white to residents.

Between the driver and the passengers who want to stop a dolmus from the street, sometimes special hand signals are used to communicate about its route well advance the vehicle approaches. This gives the driver a chance of not stopping or slowing down the traffic if that has no use to anyone (as I said before people of Istanbul are in more than an ordinary hurry). These signals can be a bit confusing for the first time visitors as well.
| | |
| --- | --- |
| Minibuses are small busses that provide another inexpensive form of transportation. Just like dolmus, they operate between specific routs in the city. They begin operating at 6:00 in the morning and travel back and forth on their routes until late at night usually around 1:00 am. | |
Like dolmus you can either get on from the main stations or anywhere on its the route. If you get on from a main station it departs whenever every seat is full, sometimes even more than full because you can also stand in a minibus. Luckily this filling up doesn't take too long considering Istanbul's population. Their routes are again indicated on the bottom right corner of the front window and same as dolmus you can again get off wherever you want as long as the traffic rules are not going to be violated (at least they sometimes try not to). Again like in dolmus, when you want to get off, you simply (or may be it is not so simple for you) say "Musait bir yerde" but this time use a louder voice especially if you are at the back and try to move near the door as soon as possible.
Rates change according to the destination. You need to pay by cash to the driver as soon as you get on the minibus telling where you want to go. Although sometimes the driver has a another person sitting next to him at the front in order to handle money, most of the time the driver himself takes your money, gives your change back, watches out and honks for new passengers and drives while you sit back and have a heart attack. So preparing your money accurately so that he won't need to worry about your change is highly appreciated. And sometimes they may get a bit cross if you give big notes like 20.000.000TL for a 750.000 fee. It will still be a very different and exciting experience for an outsider.
Pros:
Very handy and numerous in number all over Istanbul.
Fairly cheap.
Cons:
Most of the the time they are over crowded, especially on the rush hour.
| | |
| --- | --- |
| Istanbul is one to the first cities to build an underground railway. This very short (573 m) and historic tunnel route built in 1875's is still working between Karakoy and Beyoglu today. It surmounts a difference in altitude of 60 m. However, although having other trams and rapid tram routes, the underground metro of Istanbul wasn't introduced until the year 2000. | |
The historic tunnel starts serving 6:00 am in the morning until 21:00 pm at night and depending on the passenger numbers, it departs every 5 or 10 minutes. The trip takes about 1,5 minutes. The upper station is linked to Taksim Square by a vintage tram.
It is owned by Istanbul Municipality. Payment can be made by ticket or Akbil.
Pros:
It can be a nice historic experience travelling in one of the world's first built underground railways (1800s).
Cons:
If you are going to use it just to experience history unfortunately this lovely trip takes too short (about 1,5 minutes).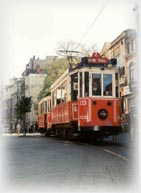 The Nostalgic Tram links the Taksim square to the upper station of the Historic Tunnel as there are no other means of transport on the Istiklal street. Istiklal street (one of the main and favourite meeting point for locals and tourists with its historic cinemas, historic buildings, historic churches, historic restaurants like "Cicek Pasaji" and lots of places to shop) is deliberately closed to traffic to enable people wonder around more peacefully, relatively more quietly, and more comfortably without worrying about the traffic.
The only means of transportation deliberately left on this long street is the Nostalgic tram to save the ones whose feet are aching after a long day of shopping, sight seeing or Tangoing at the "Istanbul Kultur Merkezi" (Istanbul Cultural Center).
As well as reaching for your feet's call of help on time, the Nostalgic Tram adds another beauty this lovely street and gives it the feeling of old times which the local people of Istanbul are missing more and more each day as it gets more crowded by the immigration to cities.
The Nostalgic Tram travels back and forth from The Taksim Square to the Tunel in every 10-15 and 20 minutes. It travels more often during the crowded times of day, however the best time I love to travel with it is in the early hours of mornings when the city is slowly wakening up and not much people are around. Yes, as I write I think I am discovering once more that I am in love with this city :)
You can get on and off either at the main stops which the Nostalgic Tram stops in any case, these are the main one on Taksim Square, the mid stop at Galatasaray and the last stop at Tunnel, alternatively you can choose the other existing tram stops on the street at regular intervals.
It is owned by Istanbul Municipality. Payment can either be made by ticket or Akbil.
Pros:
Cons:
I can't think of any bad points of travelling with it, maybe, sometimes it can be over crowded and at the busy times of the Istiklal street try to hold on tight if you are standing because some tram drivers make harsh stops in order not to injure any pedestrians that get on their ways.
Underground Metro (Taksim-4. Levent)
The new underground metro has been built between where the heaviest traffic used to occur that is between Taksim and 4. Levent. It was opened on 16th September 2000. The objective was to ease city traffic and to improve the daily lives of residents, a great number of whom travel between continents (Europe and Asia) every day to home and work.
There is a proposed second phase to this project that would create an additional 20 km route from Topkapi to the Istanbul Technical University.
It is said that "The Taksim - 4. Levent" metro will eventually provide transport for up to 70,000 passengers per direction per hour, a total of 1.5 million people everyday. All stations have escalators and an elevator to provide full accessibility for the disabled. Stations look similar, although a different colour was chosen for each of them.

The existing 8 km line has 6 stations; Taksim, Osmanbey, Sisli, Gayrettepe, Levent, 4. Levent, two with shopping features that has 59 new stores. A trip along the entire line takes 12 minutes. The metro was built by the cut-and-cover method to withstand earthquakes of up to 9 degrees and the construction took 8 years with an investment of US$550 millions.
You can use either a ticket or an Akbil to pay your fare.
The technical information on this part the "Underground Metro" is adopted from: http://www.pcvuesea.com/Istanbul%20Subway.htm
and some other parts are translated to English from: http://www.olympist.org/2008/organizyon/ulasim.htm

Pros:

Cons:
Some English people say that it is so deep under the ground (underground metro is supposed to be under the ground but, so they say) so it takes some time to get out, where as after having travelled many countries, I personally think that it is fair enough and you have escalators any way so not a big deal.